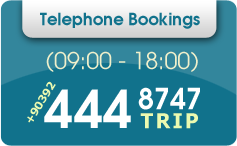 All Free!
Road Map of North Cyprus
Ercan Airport delivery / pick up
24/7 Roadside Service
Child seats and booster seats
Second driver
Unlimited mileage
No Commission
Delivery to all over N.Cyprus
Change of car in case of mechanical breakdown
Transport
The newly refurbished Ercan Airport, (pronounced airjan), situated approx 25 minutes drive from Kyrenia, handles the bulk of the tourist traffic, whilst Gecitkale serves as a back-up airport. Daily flights from many mainland Turkish cities, as well as flights from Europe, supply the majority of the visitors to the island.

Airlines flying to North Cyprus are Cyprus Turkish Airlines, Turkish Airlines and Onur Air. No visa is required to enter North Cyprus and if you prefer not to have your passport stamped when entering the country, you can have a blank piece of paper stamped.

Various airlines also fly to Larnaca in the South. A taxi fare will cost @ £50 each way to and from Kyrenia.

 

Importation of Cars into the TRNC
All foreigners should carefully examine the importation of vehicles rules into Northern Cyprus from overseas. Cars are valued (Glass's Guide) and import tax is levied on the basis of the value, engine capacity and age. In most cases the tax assessment is high. It is far more advantageous to purchase a car in North Cyprus. Brand new cars are usually very well priced and many companies offer interest free credit terms.

Second-hand vehicles are in abundance but prices for reliable cars rarely drop below £3000 no matter the condition. We may not be the cheapest for Car Insurance but we are the only Company in Northern Cyprus to offer Insurance with premiums paid out in Sterling.




Driving Licence
A valid British driving licence is recognised in the TRNC for a limited period, as is an International Driving Licence. Anyone owning a car in the TRNC is required to have, within a year, a TRNC driving licence. If this is not obtained and an accident occurs the car insurance becomes null and void. This can be obtained on presentation of a Temporary or Permanent Residency Permit, the original British driving licence, together with a photocopy of both sides and 2 passport sized photographs. Forms are available from the taxation office in Girne. Completed forms must be presented in Lefkosa. There is a fee for the driving licence: a 3 year or 5 year licence may be bought. A test may be taken locally to obtain a first ever driving licence.

 

Traffic
As in the UK traffic circulation is on the left. Road signs are international.

There are a large selections of car hire companies with a variety of vehicles at favourable rates, from as little as £10 per day in the winter to £15+ in the peak season.

Petrol Stations
There are many petrol stations on the Island, a few in each town and on the main through roads. Many are open 24 hours a day. Car valet services are widely available and are cheap.