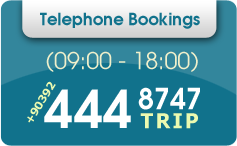 All Free!
Road Map of North Cyprus
Ercan Airport delivery / pick up
24/7 Roadside Service
Child seats and booster seats
Second driver
Unlimited mileage
No Commission
Delivery to all over N.Cyprus
Change of car in case of mechanical breakdown
If you wish to rent a car in North Cyprus and if you coming from UK, it will be so easy. In Turkish Republic of Northern Cyprus, driving rules and regulations are just the same as in the UK. Traffic flows from the "left lane". Therefore, all rental cars steering wheels on the right side.
Hiring and driving a rental car in North Cyprus is so easy. The people coming from the other countries that traffic from right side, can adapt easily to the traffic here. In Northern Cyprus there are not so much cars on the roads. For those who used to right traffic, we advise automatic transmission, so they will not have to use their left hand to change the gear which can be difficult.
In TRNC, there is not so much  traffic lights, You can see many roundabouts instead and priority is on the car that approaching from the right side on roundabout.
There are many fixed speed cameras on inner city and on motorways. Depending on your location speed limits are 50 km, 65 km and 100 km. Signboards are warn you about the speed limit. Therefore, be careful not to exceed the speed limit during your journey in which the speed signs.
In order to help you, our staff will give you North Cyprus road map free of charge. 
Rental car can only be driven by the people whose names are on the "Car Rental Contract". Otherwise, you will not be covered by insurance.
In Northern Cyprus, rental cars alcohol limit is ZERO (0), and the police are very strict on this. Drunk and driving fines are very high.