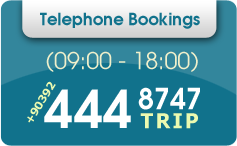 All Free!
Road Map of North Cyprus
Ercan Airport delivery / pick up
24/7 Roadside Service
Child seats and booster seats
Second driver
Unlimited mileage
No Commission
Delivery to all over N.Cyprus
Change of car in case of mechanical breakdown
North Cyprus Ercan Airport
Airport name Ercan, Cyprus Peace Operation July 20, 1974 during the extraction Yavuz, who died in Beach Airman Pilot Sergeant Major Fehmi from Ercan. Ercan International Airport, about 100 times the number of weeks the main airport in Northern Cyprus. Renewed terminal equipment with the technical and architectural Ercan Airport has a very modern look. The main building is divided between the passenger and the passenger terminal. Ercan Airport, scheduled and charter flights are offered by five major airline company. Regularly scheduled flights to North Cyprus Ercan Airport to regulate airways, Pegasus Airlines, Atlas Jet, Onur Air, a Turkish company, Turkish Airlines, Anadolu Jet'tir what still. Outside of Turkey, England Heathrow, Gatwick, Manchester and Stansted Airport in areas of work per week 20-25 are scheduled flight. Turkish Republic of Northern Cyprus Ercan Airport with a window to the world, renewed every year and to give the best service to the most recent teknonolojiler used.
Northern Cyprus Ercan Airport is an airport other alteration or maintenance Gecitkale used in the time taken Airport. This airport is used for military purposes than in normal times. Ercan smaller than the airport.
Ercan Airport Services
Ercan airport departure terminal and the arrivals terminal is divided into two parts. Two in the main building, restaurant / cafe available. Restaurants usually serves fast food style. While waiting for the passenger terminal, ready meals and hot and cold beverages are also serving restaurant. Ercan airport is open 24 hours for the service in the restaurants were all passengers. There are duty free shops on arrival and departure terminals. Departure hall, arrival hall and seats are larger than available. Ercan'daki duty free shops, in general, cigarettes, perfumes, alcohol, Cyprus, famous halloumi cheese, souvenirs and chocolate products satılamaktadır style. These products are less expensive than North Cyprus any store prices.
Ercan Airport Taxi and Public Transportation Services
Ercan Airport taxi service is available 24 hours and is located opposite the arrivals gate.
Public Transportation service from KIBHAS (Cyprus Airports Services Company) is provided by the company. This company, Kyrenia, Nicosia, Famagusta, Cyprus in Lefke and Morphou limited hours of 5 regulates mutual expeditions.
KIBHAS detailed information about departure times can be found at www.kibhas.org.
Cash machine (ATM), the Bank:
Agricultural Bank
HSBC Bank
Business Bank
Cyprus Turkish Cooperative Bank
Economy Bank
Creditwest Bank
Garanti Bank
North Cyprus Passport and Visa Information
Cumhuriyeri citizens of Turkey as tourists, ie for your holiday or business trip can take when entering the population, wallets and passport upon arrival in North Cyprus kalabilirler.Ülkeye 3 months there is no need, however, need to repel three-month period. More about were a forced authorization is required. Working in Cyprus, the people who want to come to settle in the country with their passports to enter or training is required. The European Union, the USA, Canada, Mexico, Japan, Switzerland, Norway, Israel, Pakistan, Azerbaijan, Australia, and New Zealand citizens need a visa to enter the country are doing. Discuss the nearest embassy or representative offices in other countries' citizens are granted a visa Cyprus.
For more information about visa Cyprus, Turkish Republic of Northern Cyprus embassies or consulates nearest you for more information.

Ercan Airport Parking
The main car park is directly opposite the main terminal building at Ercan Airport. Has a capacity of approximately 800 car parking spaces. Car parking in general, contacts or customers departing from Northern Cyprus to meet the short-term that is used by people. Also this car park is used for long term parking. Ercan Airport with covered car parking available. Nearest part of the main terminal building of the parking on the right side as shown in Fig reserved for buses and minibuses.
Tickets and parking fees
When you enter the main parking lot Ercan airport, automatically writing the date and time on the machine you will receive a ticket. Park car park in the car park fee varies according to how much kaldığınıza. Out in the middle of the park before making payment to the point of auto will have to pay parking fee. Below you can see Ercan Airport parking fees;
time
price
0-20 minutes
Free
60 minutes
$ 5
1-3 hours
£ 05.06
3-6 hours
$ 10
6-12 hours
12.5 TL
12-24 hours
£ 15
After 1 day
$ 5
monthly
£ 120
Distances to the major cities of Cyprus Ercan Airport are as follows:
Ercan Airport - Kyrenia: 44 km.
Ercan Airport - Nicosia: 23 km.
Ercan Airport - Famagusta 50 km.
Ercan Airport - Karpas: 124 km.
Morphou Ercan Airport: 56 km
Ercan Airport - Esentepe: 47 km.
Ercan Airport - Lapta, Karsiyaka: 55 km.
Ercan Airport contact numbers,
Airport Desk Phone: +90 (392) 600 5000
Fax: +90 (392) 231 46 39